So last Thursday, the Spring 2014 items were released...
...and I died at all the cute stuff!
I've been trying not to stalk the site because I'm holding onto my sanity until my bday shopping spree next week (FYI I'm going CRAY CRAY with my order!), on top of using my Birthday discount at my Sig store.
Me on the inside.
I'm having difficulty deciding what I want to buy when I get there, and it sucks. I of course want a Vera tote and a lunch tote, since I tend to get them as a set. But what color do I get?? I adore Blue Bayou, and Clementine...and Julep Tulip! See my dilemma?! I also want to venture out into other styles. I have tons of Vera totes and Tote-totes (ha), but I want to try out a Glenna, a crossbody or one of those new totes; that Bucket tote and the Curvy tote look reeeeeally cute... I also need a new messenger bag or backpack because it's back to grad school in 2 week (just one more semester after this God willing!).
*sigh*...decisions, decisions.
I know for sure what I'm ordering off the site. My online cart is NO JOKE. It's been ready for WEEKS. Fully prepared to spend this money and giving zero fucks...cause it's my birthday month y'all!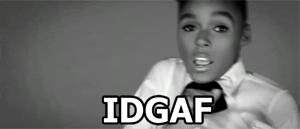 Now, onto something a little fantastic...
today I found out about
Julep Tulip Black
and HOLYFUCKINGSHITIAMDEAD.
What in the blue hell? HOW in the blue hell did I miss THIS?!:
WHATTTTTTTTTTTTTTTTTTTTTTTTTTTTTTTTTTTTTTTTTTT
So I guess in my attempt to behave myself, I missed this one! A Julep Tulip hybriddddddddd! I must have one! And now I have so many questions!!! Are they making bags in this? If so, which ones? When will they be available?? I NEED ANSWERSSSSSS!
I just about dropped when I caught wind of this via VeraObsessed's insta. I wonder what other tricks Vera has up their sleeve this year. Theres no swatch of this obviously but I decided to play around and make a pretend one.
I repeat, THIS IS NOT THE REAL SWATCH. AT ALL.
How'd I do?
And apparently I've been spelling Julep Tulip WRONG this whole time...wtf?
So I'll probably pop back in a few days to share the spoils of my treasure hunt at my Sig store.